Select from black or white colour accents: legs and control strip.

All MOVI desks come with a sustainably sourced, natural bamboo bench top that is protected by a durable, scratch-resistant coating.

Please note, bamboo is a natural material and the colour does vary (such as light, dark, grain appearance).
We offer two motor options to cater for different office environments.

V1 - Operates between 73-77db when raising and lowering, suitable for office spaces with more background noise, music and chatter.

V2 - Operates between 60-64bd when raising and lowering, similar to a printer or scanner. Suitable for quiet office environments. V2 also features a fast-charging USB port that supports iPhone charging (7.5W output).

Both models are backed by our 5 year warranty and offer the same level of speed and reliability. Visit our YouTube for a sound comparison video (link in footer).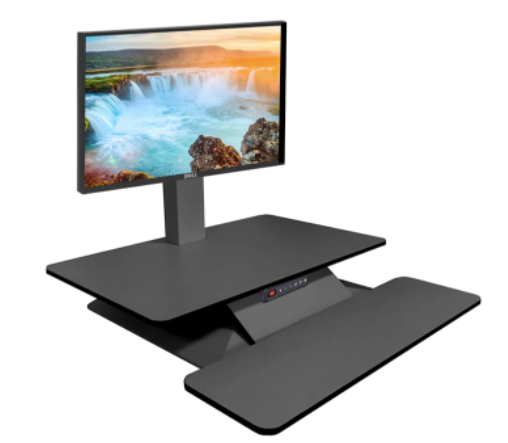 Standesk Memory Electric Sit Stand Desk
The Standesk Memory electric sit-to-stand workstation gives you all of the benefits of a sit-stand desk without having to purchase a new desk. The Standesk Memory sits on top of your existing desk and allows you to seamlessly switch between sitting and standing at the push of a button, converting your fixed-height workstation into an ergonomic workspace. 

Standesk Memory operates using an electric motor to adjust the telescopic adjustment inside the leg that allow for smooth movement of the desk surface. Sensor touch buttons make the lifting process effortless to adjust, even fully loaded. You also have the option of a 3-height memory function which allows you to customise and save three heights. You can then automatically move your Standesk to one of these saved heights by pressing one of the preset buttons. 
​
Importantly, Standesk adjusts in a vertical line, eliminating any deviation and allowing for a minimum footprint on your existing desk.

The Standesk Memory has a huge lifting capacity of 50kg, ensuring you can easily lift all of your equipment. It also has a a large and generous split work surface, one for your keyboard and mouse, and another for you computer and accessories. 

Suitable for 1, 2 or 3 monitor brackets, attaches via VESA plate (which is provided).
Key features include:
AFDRI tested and approved and conforms to AS/NZS60335.1 electric standards.
Two working platforms, one of the keyboard/mouse and one for the computer.
Sturdy construction providing an extremely solid workstation in standing.
Huge desktop height range of 100mm to 540mm (vertical adjustment).
Keyboard height up to 460mm.
Huge lifting capacity of 50kg.
Touch buttons and 3-height memory control panel.
Anti-collision mechanism going up and down, ensuring safety for the user and surrounding items.
Automatic sleep and standby function to save power.
Simple installation process. ​
Five year warranty.
Keyboard size: 700mm wide x 220mm deep x 12mm high
Desktop size: 700mm wide  x 400mm deep x 12mm high
*Monitors not included in price.
Buying for your business?
We offer bulk pricing when you purchase 5 or more MOVI desks.
Get in touch