Shipping & Returns
When will I receive MOVI after I've placed my order?
For east coast metro areas delivery time is generally between 1-3 business days. For all other areas, shipping may generally take up to 5 business days. Please note that these shipping estimates are from date of dispatch of your order from our warehouse. If a product is out of stock, we will update you accordingly.
How do I track my order once shipped?
Once your order is ready to be dispatched from our warehouse, you will receive a notification via email or SMS with a tracking link for your order.
What is MOVI's refund policy?
MOVI does not accept change of mind returns on full priced or sale items. If you believe there is a fault with your product please refer to our Troubleshooting FAQs or contact support@moviworkspace.com with photos and a video of the issue and we will review and provide details for resolution. For full details, please see our Refund Policy in our Terms and Conditions available on this website.
What is the delivery process?
We use 3rd party couriers (TNT, StarTrack) to deliver your product to your address. You will be notified once the shipment is out for delivery. If you need assistance with your delivery, ensure you have help on hand on the date of delivery. Please see our Terms and Conditions on this website for more information.
Setting Up Your MOVI
Does MOVI go straight onto my existing desk?
Yes. The soft-feel rubber feet have been designed with a grippy rubber that's non-scratch. You don't need to attach it to your existing desk. We recommend that two people unpack and lift MOVI onto your existing desk.
Can I use two monitors on MOVI?
Yes. Most monitors are 3-4kgs) in weight and a large Apple iMac 27" is 10kgs. MOVI has a maximum lifting capacity of 15kgs so you can comfortably set up however you need to.
How stable is MOVI when I'm standing up?
When MOVI is stationary, it's incredibly stable and will withstand any additional force from leaning or resting your elbows on the desk.
How do I know what my correct standing height is?
MOVI is at the best ergonomic standing height for you when your elbows are at a 90 degree angle to the top of the workspace. See our Blog for more information.
How ergonomic is MOVI at different heights?
MOVI is ergonomic for people of heights from 5' up to 6'4". MOVI offers 24 height settings of 1.5" increments. This enables MOVI to adjust from 8" (20cm) to 18" (44cm) above your existing desk height.
How do I adjust my chair or desk to suit MOVI?
MOVI will sit directly on top of your existing desk. When MOVI is flat, it adds an extra 1.5" (40mm) of height onto your existing desk. So you'll only need to raise your chair up slightly to achieve an ergonomic set up when seated. If your feet raise off the floor, we recommend using a foot stool. You don't need to make any adjustments to your existing desk for MOVI.
Using MOVI's Features
How does MOVI differ to other standing desk risers?
The biggest difference between MOVI and other manual adjustment desks, is that with a flat surface, you maximise the usable space of your desktop. With manually adjustable desks (such as Varidesks), you only have a keyboard tray to work from which is very restrictive and quite unstable. The upper shelf tier is really only suitable for monitors and things that you don't need to work hands-on with. With MOVI, we opted for a completely flat workspace area so you can continue to work the way you do now, but simply elevated.

The other main differences are: > Electric Lift: Smart motorised lift system lets you sit-stand at the touch of a button (safer than manual adjustment!). > More Space: Completely flat workspace with 4X more usable space than any other desk converter (no split tiers). > Ergonomics: Choose 24 different height settings to suit people as tall as 6ft 4" (other converters stop at 5ft 10"). > Convenience: Memory preset your standing height, plus 2 x USB charging ports and move reminder timer built-in. > Bamboo Top: Sustainable bamboo benchtop that uplifts your space and wellness at work.
How do I memory save my standing height?
Simply use the ⇧ button until you reach your desired standing height. The numbers displayed on the screen are the number of centimetres or inches above your existing desk height that MOVI is elevated to. Then press and hold the MOVI Leaf button and your standing height will be memory saved. Press the MOVI Leaf button again to toggle between sitting and standing.
What can I plug into the USB charger?
There are 2 x 1A USB charge ports on the user interface. The original MOVI V1 Desk has USB chargers equipped to charge some phones and other small devices. Apple iPhones have a higher voltage requirement than other phones (Android) and do not charge on our V1 model. Our V2 PRO Smart model supports charging for Apple iPhones. The Lite Model does not support USB charging.
Can I switch between inches and centimetres?
Yes. Via the user interface you can easily switch between your preference of centimetres or inches. Press and hold the ⇧ and ⇩ buttons together to access the menu which enables you to set your preferences.
How do I use the Move Reminder function?
Access MOVI's menu on the user interface by pressing and holding the ⇧ and ⇩ buttons together. You can then set a time interval (e.g. 60 minutes) so that after 60 minutes of sitting or standing, MOVI will prompt you to move.
How long does it take for MOVI to go up or down?
For most users of average height, with a typical set up, the up/down time is closer to 20 seconds. MOVI takes approximately 30 seconds to go from completely flat to the maximum standing height of 18" (44cm) when lifting a maximum load of 44lbs (20kgs).
What happens when the display goes into sleep mode?
This is simply an energy saving mode. Press any button on the user interface to wake up MOVI. This feature puts MOVI into a low-energy state.
Does MOVI make much sound when it moves?
MOVI uses a high speed electric motor to adjust its height. This emits a sound which is similar to a photocopier or printer. We have acoustically insulated the motor so that it doesn't interfere with your working environment.
Looking After MOVI
How durable is the bamboo bench top?
The bamboo bench top is coated with a hard-wearing, water-based, eco coating that should prevent it from scratching and staining over time. As bamboo is a natural material, we cannot guarantee that the bamboo will stay in it's original state throughout it's life particularly if exposed directly to sunlight.
How do I clean the bamboo bench top?
To clean the bench top, we recommend that you use a soft cloth and water. Do not use any abrasive materials or strong chemicals to clean the bench top as it may damage the coating.
Will my bamboo bench top look exactly like the ones in the photos?
Bamboo is a natural material which means that there may be some slight variation in the appearance of each bench top, depending on the properties of the bamboo used for that particular bench top. We have strict quality procedures in place to guarantee that every bench top is high quality and meets our standards.
Can I leave MOVI plugged in all the time?
Yes, just like regular office equipment, you can leave MOVI connected to power at all times. When MOVI is not being used, it will go into power-saving mode so that it uses very little energy.
Standing Up Right
How much time should I spend standing per day?
This is not a one-size-fits all approach, however many experts recommend changing your posture every 30-40 minutes. This could be by alternating between sitting and standing, moving about or doing some gentle stretching. Depending on factors such as fitness, age, strength, physique and prior injuries, the amount of standing time you can tolerate each day will vary from person to person. If you're standing and feel tired or sore, that's an indication that it's time to move, stretch or sit and take a break. Check out our blog for more tips.
Should I get rid of my chair when I start using MOVI?
Definitely not. An ergonomic chair is a great piece of equipment for allowing your muscles to rest. When standing, your muscles are engaged, but when you start to tire, an ergonomic chair is very helpful to allow your muscles to rest. When you start using a standing desk it's important to listen to your body, and if there are any signs of strain or discomfort, then change posture or sit and take a break.
Why type of footwear should I use when using a standing desk?
Using incorrect footwear, essentially anything unsupportive or with a high heel, can lead to pain in your feet, legs and back. It's best to stand with flat, supportive shoes, or without shoes at all. This allows for your posture to be correctly balanced and weight to be evenly distributed throughout your feet.
Where can I find out more information about how to use a standing desk correctly?
For more information about how to use a standing desk correctly, how to transition from a sitting desk to a standing desk, how to get moving more at work and general ergonomic tips, please check out the MOVI Blog. See the link in the footer of this page.
Troubleshooting
My USB ports don't seem to be working.
Our MOVI V2 PRO Smart desks are equipped with 2 x USB ports; 1 fast-charging port (right, 7.5W) and one standard output port (left, 4.9W). The right port will work with all devices, including iPhones (which require the higher wattage level), and the left port will work with all other USB devices (such as another brand phone or a fitbit). Try your left side USB port with a non-Apple product. Please contact support@moviworkspace.com with any tech questions.
'Reduce load' appears on my LCD screen.
Your MOVI Desk is designed to lift up to 15kgs of equipment. Please first check that all the equipment on your desk weighs less than 15kgs. Once confirmed, if your LED screen still shows a 'Reduce Load' error, this issue can be easily and quickly fixed by updating the desk's software. The software update can go onto a USB stick and takes approx. 10 seconds to update. The steps for the upgrade can be found in our Blog: How to Software Update Your MOVI Desk. You will need to contact support@moviworkspace.com with the details of your issue and we will send you a software file update for your desk.
How do I recalibrate my MOVI Pro?
The 'Recalibration' message is displayed if the power is disconnected when the desk is moving. Very easy to fix. Firstly, please make sure the power jack is connected securely into the jack on the back of the desk, and also check that the cable isn't getting caught or pulled by anything that's in the way. Also check if there are any obstructions under the MOVI desk (e.g. such as cables on your existing desk). Once this is done, simply press the 'Leaf' button on the control panel of the desk. It will move slowly back to the lowered position and then recalibrate back to the zero height position.
MOVI's Warranty
What is the warranty period for MOVI?
MOVI comes with a 2 year mechanical warranty. You can find specific details of our Warranty in our Terms and Conditions available on this website.
What happens if the motor fails at any point in time?
We have performed extensive durability testing on our electric motor, which is why we are able to offer a 2 year warranty. The warranty is based on estimated usage as follows: desk adjustments up or down 8 times per day x 300 days per year x 2 years, using the max load of 15kgs. The testing conducted is very much on the high end of usage. In the unlikely event of the desk failing within the 2-year warranty, we will seek to resolve the issue or alternatively replace it free of charge. Please refer to our Warranty terms on this website if required. Should it fail outside of the 2 year warranty period, the desk can still be manually adjusted and left in the up position, or alternatively MOVI can arrange a courier to our Melbourne factory where we would replace the motor (the latter being at your cost).
How much testing has been done on MOVI?
We have been extensively testing MOVI since October 2016 and continually make mechanical refinements. Included in this testing has been lifecycle testing (continuous operation of MOVI for multiple weeks), destructive tests, noise and vibration testing as well as an extensive amount of user testing. These tests have all contributed to us being able to offer our customers a mechanical warranty of 2 years. Please refer to our Terms and Conditions for details of our Warranty.
How do I make a warranty claim?
To make a claim under our warranty, you must: a) contact our customer service team; b) contact us within the warranty period; and c) produce a satisfactory proof of purchase (including an online proof of purchase such as a tax invoice) demonstrating purchase of the product(s) from us directly. For all details regarding our warranty terms please refer to our Terms and Conditions available on this website.
Have questions?
Speak to one of our experts
Email

Say Hi ›

support@moviworkspace.com

24 hour response time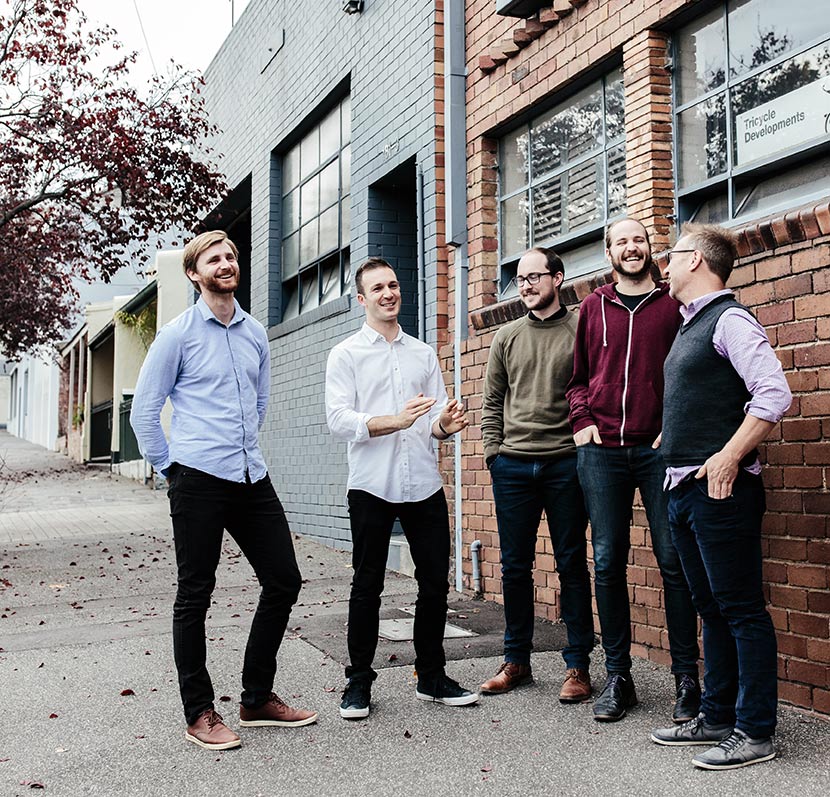 Say Hi
Get setup and
standing in no time.
Onto your desk. Plug in.
Ready to stand.
Grab a friend, lift MOVI out of the box, place MOVI onto your clear desk space and plug into power. Yes, as simple as that. You're all set to go.
Get standing in 30 seconds.
Quick and easy. 
Press and hold the ⇧ button to elevate your MOVI Standing Desk. Use the ⇧ and ⇩ buttons to find the height that's exactly right for you.
Sit and stand anytime with Memory Save. 
Once you've found your favourite height, press and hold the MOVI Leaf button to Memory Save your height. Then simply toggle between standing or sitting with one touch, any time.